Tuesday, January 17th, 2017
It has been ten years since phones have released equipped with touchscreens, and we have not stopped putting touch screens on our technology since then. Almost nothing is safe from being upgraded with a touch screen, even every-day  household appliances, such as refrigerators and toilets (reviewed on websites like unclutterer.com), have seen touchscreen integration over the past few years. Once you find out that someone has upgraded a toilet with a touchscreen, it should be no surprise that projectors are not an exception to being upgraded with touchscreens.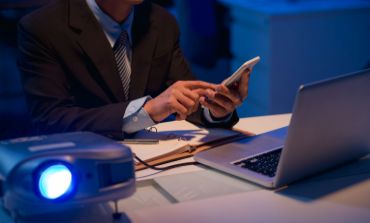 When it comes to making interaction possible with projectors through touch, the term "touch screen" is a little different from the traditional sense. Since standard projector rentals don't usually have built in touchscreens inside of the actual projector, it would be more apt to call the technology I'm referencing "touch projection". If you've been in a school or university classroom at any time in the last four or five years, there's a good chance that you might have seen a projector with touch-screen technology at work in the form of an ENO board, which are extremely helpful for both teachers and students alike.
So, how do touchscreen projectors work? As I mentioned in the above paragraph, projector touchscreens are a little different from normal touchscreens because most projectors require you to use styluses instead of your fingers. This technology is especially helpful for PowerPoint Presentation Projector Rentals, which is a main reason as to why ENO boards are so popular in environments relating to academia.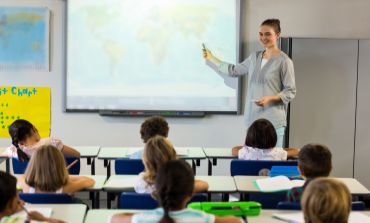 While it is more common to find projectors with styluses inside of a classroom or work related environment, it should be mentioned that touchscreen projectors are capable of being lightweight. With some touchscreen projectors coming in at only over half a pound, touchscreen projectors are on the road to being more and more common in personal projector use.
At the moment, the majority of touch screen projectors are used in work and schooling environments, but there are some smaller touchscreen projectors available on the market. If you want a projector for something more along the line of personal use, perhaps for something like watching movies, you should probably just go with a DVD Projector Rental instead. Stylus projectors are not necessarily in style yet in the personal use market. 
Want to share this story on social media? Use these hashtags! #Projectors #TouchProjector